If you see this, -- it's because you are viewing this on your computer as appose to your palm.
To view the real thing on your computer,
click here
.
3D Chess
or
Dimensionalized Chess
"CHESS - THE NEXT GENERATION"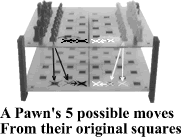 EN PASSANT


To play the games out below:

Get a piece of glass and support it with books (or anything) over top of your regular chess board.
Next get some tape or a marker to mark where the squares are on the glass.
To give it a try, it's that simple.
It only takes between 30 and 45 minutes to play a game.

    WHITE     BLACK
 1. Acl-Bb2   Af7-Bf6
 2. Agl-Bg3   Ae7-Ae5
 3. Ae2-Ae4   Ah7-Bh6
 4. Bg3-Ae3   Ad8-Ah4
 5. Abl-Ac3   Ac7-Bc6
 6. Ae4-Be5   Ag8-Be8
 7. Adl-Bd2   Ad7-Bd7
 8. Ael-Acl   Ab8-Bb6
 9. Ad2-Bd3   Ae5-Be4
10. Af1-Bg2   Bf6-Bf5
11. Ah2-Bh3   * resigns
 * Possibly suffering from 
   two-dimensional thinking


    WHITE     BLACK
 1. Ae2-Ae4   Ac8-Bb7
 2. Adl-Af3   Ag8-Bg6
 3. Aal-Bal   Aa7-Ba6
 4. Bal-Bdl   Aa8xAa2
 5. Afl-Ac4   Aa2-Ba2
 6. Af3xAf7 mate!! 

Another game:
35 moves to checkmate!