This scanned in picture is only one quarter or part of the board.
(the quality of this picture is not as good as the real thing - 15" x 15" or about 38x38cm)
Each board is 100% clear that has been silk-screened with black vinyl for the lines/squares as seen above.
If you paint over the back side of one of the boards with white, use a water based paint
gently
(otherwise the back vinyl ink will run, ruining the board). By using white paint for the bottom board the black squares stand out better visually. For all the other boards above the bottom board, they should be left as is. See
more details
...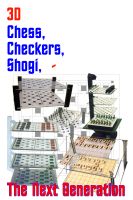 3D Chess, Checkers, Shogi, - The Next Generation
Classic Popular 2D games translated into a 3D game.
The above mentioned games and more are explained in detail with pictures.
Once you've read and played these games you will understand how to simply translate any 2D flat board game into a 3D game. Also, 'What is a 3D game?' is explained on the backcover. These games might seem intimidating but they are easier to play, very exciting and will keep you on the edge of your seat for the whole game. It's been said by some players, after playing a few games, that they ... ...never want to go back to a regular flat board again.


Did you want a Shirt, Mug etc. with a picture of '3D Chess..' on it?

As you can see the board is divided into quarters with a thicker line.

This helps the player of a 3-D game to quickly see where the center is at all times!

It's easier to see and analyse
4 squares by 4 squares than
it is to see 8 by 8 squares.

Over 14 years, and
no complaints. This board has been used and tested across Canada!


Table for 3D Chess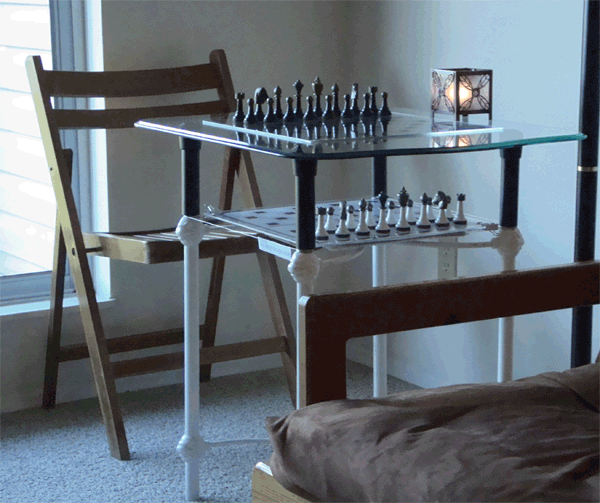 This 3D chess table is at the right height and angle for playing because you are forced to look through the top board to see the bottom board. Notice the the chair's seat is almost the same level as the bottom board.